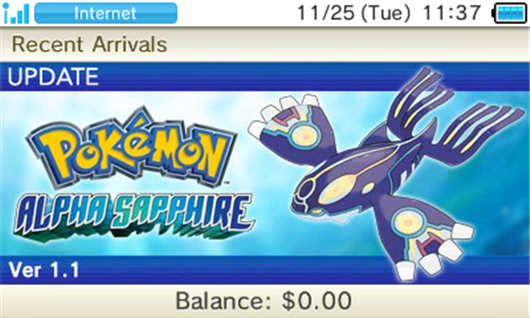 An update for Pokémon Omega Ruby and Alpha Sapphire was released to the Nintendo eShop late last night, bringing the two games to Version 1.1. There is a separate patch for Omega Ruby and a separate patch for Alpha Sapphire, so if you have both games, you'll need to apply them separately.
You'll be able to find the update in the Nintendo eShop by scrolling over all the way to the left until you find the "Settings / Other" button, then scroll down until you see the "Updates" button, which will list any updates to your games that are available. You can also find the update by just searching for "pokemon" in the search. The update should be available in Europe as well if you search for it, so those of you in Europe should download the patch for the game you're planning on getting once it releases on November 28th so it will be fully updated when you play for the first time.
The update is very vague, only mentioning fixing a few bugs and making for a smoother gameplay experience. You'll need to apply the update in order to use any of the wireless connectivity features like the PSS, online trading, battling, or Wonder Trades.