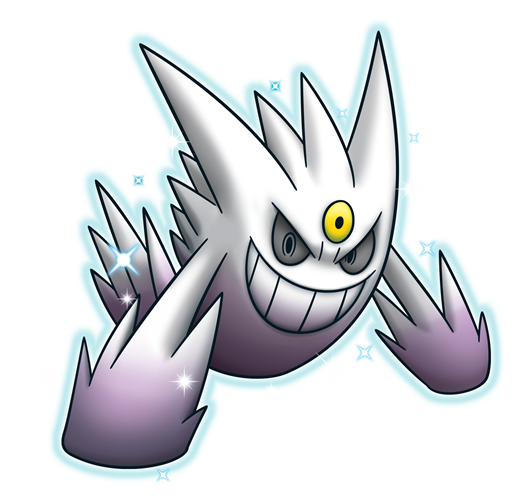 From now until October 26th, a serial code for a special Shiny Gengar holding its Mega Stone, the Gengarite, can be received at participating GameStop stores in the United States (EB Games stores in Canada, or Gameplanet stores in Mexico). The Gengarite allows this Shiny Gengar to evolve into Mega Gengar and take on a spooky ghost-white color upon Mega Evolving.
Not only does this Gengar look really cool, but it also knows a move that Gengar cannot otherwise know — Sludge Wave! Sludge Wave is slightly stronger than Sludge Bomb, with just a 10% chance of poisoning the foe, but strikes all Pokémon in the battle other than itself, making it useful for Double, Triple, and Horde Battles.
Additionally, while you're at GameStop, you can also pick up the GameStop-exclusive Gengar Spirit Link 2-pack, which includes a special Spirit Link promo card that benefits Gengar-EX and Mega Gengar-EX, who both make their debut in the upcoming XY—Phantom Forces Pokémon TCG expansion to be released on November 5th.
NOTE: This Shiny Gengar event is available in Europe from October 15th until November 5th. You can get the serial codes for it in participating GAME stores in the UK, or from participating GameStop stores in Denmark, Norway, Sweden, and Finland. It will also be made available in Germany, France, Italy, Spain, Belgium, and Portugal, possibly among other countries, though full information is not yet available (check back on the 15th on Pokemon.com for more details).