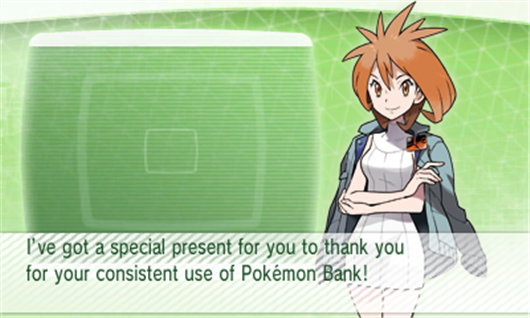 If you have an active Pokémon Bank subscription, you can now receive a set of three super-cool, fully-evolved Johto starters — Meganium, Typhlosion and Feraligatr — with their Hidden Abilities simply by logging onto Pokémon Bank and receiving the gift.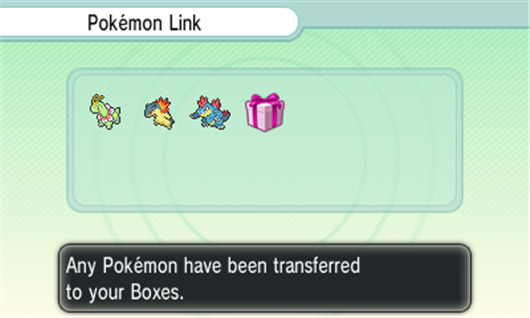 The set of three Pokémon will be sent via Pokémon Link to whichever game you select as your active game when loading Pokémon Bank. You can pick up these Pokémon by selecting "Pokémon Link" from the title screen menu and they will then be placed inside of your PC, in the first box available.
All three of the Pokémon have your OT and Trainer ID for the game you send them to. They also have some nifty moves in addition to their Hidden Abilities.
| | | |
| --- | --- | --- |
| | | |
| Leaf Guard prevents Meganium from becoming afflicted by a status condition while the weather is sunny. It comes with Sunny Day to help with that, and then Synthesis to keep on healing. It's a rather defensive Pokémon, so not having to worry about status conditions in the sun is nice, but it's still not the greatest of abilities out there. | Flash Fire raises the power of Typhlosion's Fire-type moves if ever it gets hit by a Fire-type attack. You're best off switching to Typhlosion if you think your foe will use a move in order to get Flash Fire to trigger. Ferrothorn or Forretress are magnets to fire, so switch one of them out at the right time. You could even use that Meganium as bait! | Sheer Force raises the power of any move that has a % chance of inflicting some other effect to the foe, but then removes the chance of that effect occurring. It will raise the power of Crunch, Ice Punch, and Waterfall thanks to their secondary effects, giving Feraligatr some extra punch! Combo that with the Life Orb for the best effect! |

As Hidden Abilities can now be passed along (albeit somewhat rarely) when breeding a male Pokémon possessing the Hidden Ability with a Ditto, even if you don't get a female of the starters, you can still breed them with a Ditto until you eventually hatch a female starter with the Hidden Ability and then go from there.
Keep in mind that you can only receive this set of three once per Pokémon Bank account — not once per game, but once per account or effectively once per Nintendo 3DS, and you need to have an active Pokémon Bank subscription to receive them, though you should be able to simply start a new subscription to receive them should yours run out or you failed to get a year-long subscription earlier.
You'll be able to receive these three fully evolved Johto starters from Pokémon Bank from now until November 30th, 2015. The good news is that you can receive them on Pokémon X, Pokémon Y, Pokémon Alpha Sapphire, or Pokémon Omega Ruby, not just the latter two, meaning that even if you haven't gotten around to getting the newest remakes yet, you can still score these cool starter Pokémon.