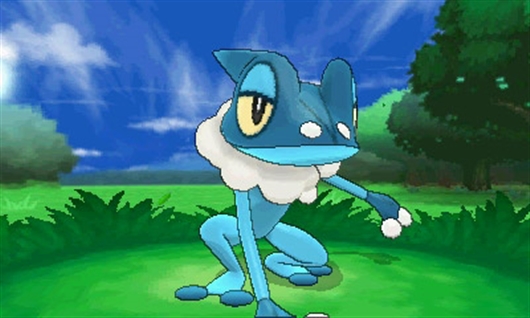 On top of the previous stuff revealed in CoroCoro, there were scans showing official artwork of the final evolutions of the Kalos Starter Pokémon. That's right, the final evolutions of Chespin, Fennekin, and Froakie. Even though leaked images have been circulating all around the internet, as with any leaked information, it has not been included on Marriland.com.
I was hesitant to show these, as a lot of people have been refraining from looking at them in order to keep their evolutions a surprise (and The Pokémon Company told reviewers not to talk about them or show them until the 12th, though Marriland.com did not receive a review copy), but ultimately with the games being released in less than 36 hours and with CoroCoro unveiling them as opposed to some leaker with an early copy, I have decided to indeed show them in hopes that it may help people decide which starter Pokémon to choose.
All starter evolutions and their names are hidden behind the spoiler tag below, which you must click in order to see (JavaScript is required). The Frogadier shown above? That's just so you have something to look at should you NOT want to see the final evolutions.
Here they are:
Chesnaught


Grass

/

Fight

Delphox


Fire

/

Psychc

Greninja


Water

/

Dark
Chesnaught, the final evolution of Chespin, is a Grass/Fighting-type Pokémon. Delphox is the final evolution of Fennekin and is a Fire/Fight- nah, just kidding, it's a Fire/Psychic-type. Lastly, Greninja is the final evolution of Froakie and is a Water/Dark-type.
Alright, that said, the spoiler tag is now over. Should you not want anything else spoiled, I suggest you avoid the comments of this post. Should you want everything else spoiled, rest assured, the preliminary version of the Pokédex for X & Y will be up later today, with all currently revealed Pokémon in it.