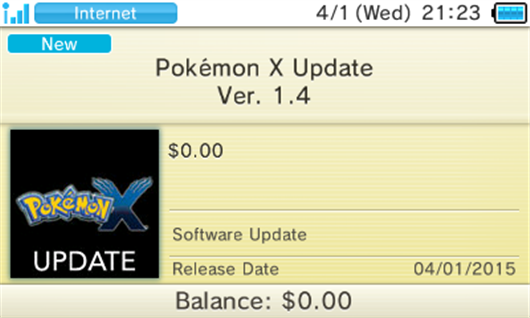 There is now a mandatory update for Pokémon X, Pokémon Y, Pokémon Omega Ruby, and Pokémon Alpha Sapphire available in the Nintendo eShop, which updates Pokémon X & Y to Ver. 1.4 and updates Pokémon Omega Ruby & Alpha Sapphire to Ver. 1.3. The update must be downloaded and applied separately for each game.
The official description of what the update does is very vague, but it appears to fix several exploits in the game which allow users to create or modify Pokémon unofficially. If you notice anything else introduced in the update, please feel free to mention it in the comments section of this post.
In order to utilize any of the Nintendo Wi-Fi features of any of these games, including online trading, battles, and other online features, you must update to the newest version, otherwise these features will fail when you attempt to initiate them.