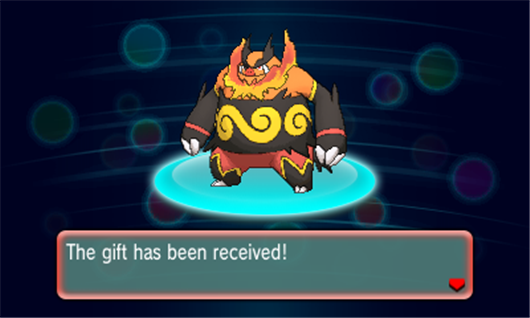 As with the Hidden Ability Serperior released last week, the other two final evolutions of the Unova Starters, Emboar and Samurott, can now be received with their Hidden Abilities — Reckless for Emboar and Shell Armor for Samurott — by entering a simple serial code in any Japanese copy of Pokémon Omega Ruby or Alpha Sapphire.
With a Japanese Nintendo 3DS system and Omega Ruby or Alpha Sapphire game (other regions, even if played in Japanese, will NOT work), players can go to Mystery Gift an receive the gift via serial code.
The code for a Reckless Emboar is POKEMON500 while the code for a Shell Armor Samurott is POKEMON503 (note: these codes don't fill up the whole code entry, but they'll work just fine). These codes can be used once per game and are redeemable until November 30th, 2015.
Both Pokémon have a random nature and IVs, as well as their Hidden Ability, meaning these Hidden Abilities are now legal in-game as they were not previously obtainable through legitimate means. Emboar has Flare Blitz, Hold Back, Head Smash, and Take Down for its moves, while Samurott has Razor Shell, Hold Back, Confide, and Hydro Pump. Hold Back is functionally identical to False Swipe, except it is event exclusive and has a different animation.
No word yet as to any distribution of these Pokémon in any other regions, such as North America, Europe, or Australia, but international players can at least trade for eggs containing these Pokémon and their Hidden Abilities.