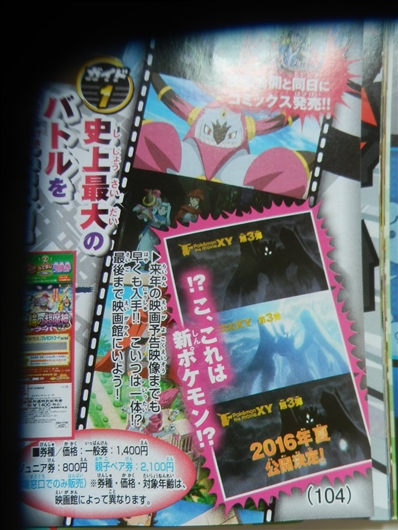 The August 2015 issue of CoroCoro has begun leaking, and contained inside is a teaser for the Pokémon Movie for 2016 (currently unnamed). It's extremely brief, showing three images reported to be included in the teaser trailer at the end of the Hoopa and the Clash of Ages movie to be released in Japan next week.
The Japanese text says "!? Is- Is this a new Pokémon?!", suggesting that whatever is shown on the screen may be a new Pokémon — or, perhaps a new form of an existing Pokémon, such as the legendary Pokémon Zygarde, which has yet to make an appearance in the anime series (including the movies) or the Pokémon Trading Card Game.
Below is the same image after some image enhancements have been applied, which reveal the "new Pokémon" possesses claws, two large arms, and gigantic things on its back that run down along its sides. Click the image below to zoom in on it.