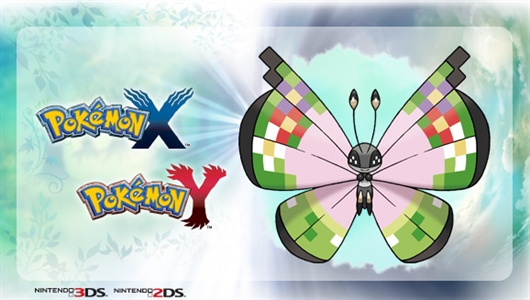 Immediately following the climax of the US National Pokémon Tournament, The Pokémon Company has announced that the new Fancy Pattern Vivillon has finally been released. As previously mentioned on Marriland.com, this new, limited edition pattern is to commemorate the 100,000,000th Pokémon traded via the Global Trade Station! Fancy Pattern Vivillon is NOT available in the wild, so you will have to download this exclusive Vivillon Pattern using the Nintendo Network on Pokémon X or Pokémon Y.
The Pokémon Company recommends following these steps to get your own Fancy Pattern Vivillon:
Connect your Nintendo 3DS system to the Internet.

Select Mystery Gift on the main menu.

Select Receive Gift, then Yes.

Select Get Via Internet, then Yes.

Watch as you receive Fancy Pattern Vivillon!

Speak to the delivery girl in any Pokémon Center to receive your Vivillon.

Be sure to save your game!
Finally, Fancy Pattern Vivillon will not be available for long, so be sure to get this special Pokémon as soon as possible.
What do you think of Fancy Pattern Vivillon? Do you have a favorite pattern? Let us know in the comments below!