After several Pokémon were just revealed yesterday, it appears that even more new Pokémon new to Pokémon X & Y are shown in this month's CoroCoro, which has leaked this morning.
But we're finally getting more information than just new Pokémon: shown above are two new characters from Pokémon X & Y. Who are they? The one to the left is called Pansy while the one to the right is the first Gym Leader in the game, Viola, who specializes in Bug-type Pokémon and is found in Hakudan City.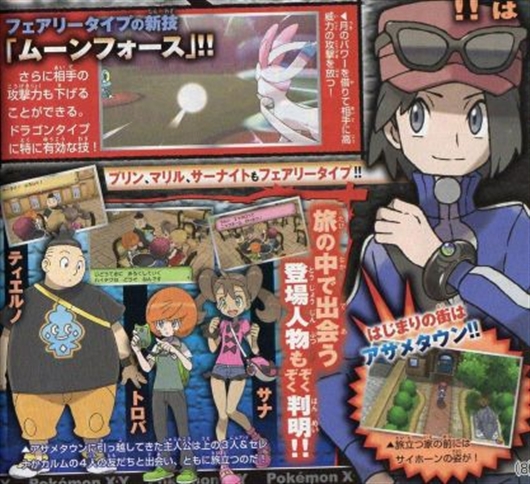 Over to the left, you can see three new Trainers, whose Japanese names are Tieruno, Toroba, and Sana (in that order). You all start off in Asame Town.
There's also a rival character briefly revealed in the top-most screenshot whose gender changes based on yours. You'll run into Serena if you're playing as the boy, or Callum if you're playing as the girl.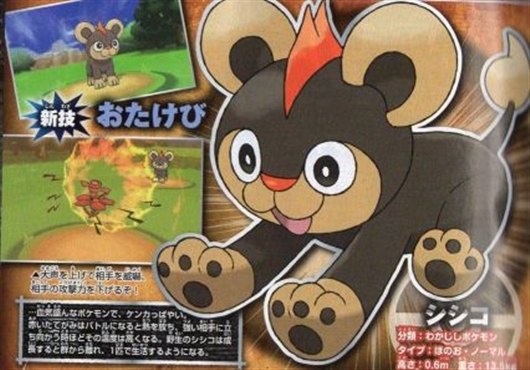 As far as new Pokémon go, there are several new ones revealed as well! To the right you can find Shishiko, the lion cub Pokémon. It's a Fire/Normal-type that stands 2'00" (0.6m) and weighs 30.0 lbs. (13.6kg). It is also shown using a new move called War Cry.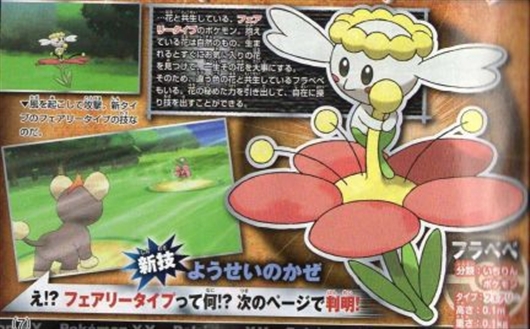 Over to the left, another new Pokémon has been revealed. This one is Furabebe. It is a pure Fairy-type Pokémon and a very tiny one at that, standing just 0'04" (0.1m) tall and weighing only 0.2 lbs. (0.1kg). It's classified as a "One Flower" Pokémon, because it apparently finds just one flower that it bonds with for its whole life. It is shown using Fairy Wind.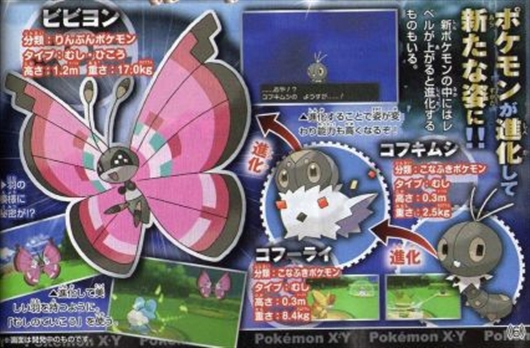 Finally, we get a look at Vivillon's full evolution line. Vivillon is confirmed to be the top of a three Pokémon evolution line. Its lowest form is Kofukimushi, a pure Bug-type Pokémon that stands 1'00" (0.3m) tall and weighs 5.5 lbs. (2.5kg). It is classified as a "blowing powder" Pokémon (translation). It evolves into Spewpa, or Kofuurai in Japanese. It, too, is considered a "blowing powder" Pokémon, standing 0.3m tall and weighing 18.5 lbs. (8.4kg).
Well, that certainly is quite the way to start the day! I'll be sure to get all of this information added to the Pokémon X & Y section of the site throughout the day, so be sure to check back!