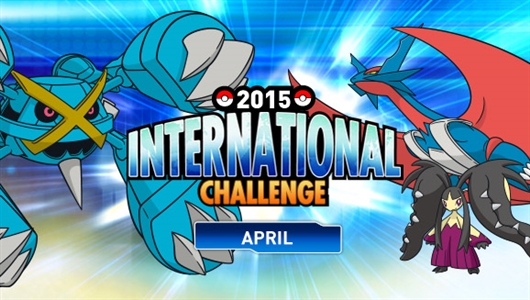 Registration for the previously-announced 2015 International Challenge April is open until April 23rd at 23:59 UTC, so if you've prepared a team for battle in Pokémon Omega Ruby and Pokémon Alpha Sapphire, you'll be able to register until April 23rd for a chance to battle against other players online in hopes of gaining Championship Points — a requirement in order to enter the Pokémon World Championships in Boston, Massachusetts this year.
This tournament utilizes the same rules as the official Pokémon tournaments, where you can bring in four to six Pokémon that were obtained in X, Y, Omega Ruby, or Alpha Sapphire (that have the blue pentagon symbol), excluding certain legendary Pokémon, such as Mewtwo or Deoxys. All battles are Double Battles with each player using four of their six Pokémon after being able to see the opponent's full team of six (of which, they, too, will only be able to use four).
You can find a full list of rules on the Pokémon Global Link page explaining the tournament. The tournament itself starts at 00:00 UTC on Friday, April 24th and lasts until 23:59 UTC on Sunday, April 26th. When is that in your time zone? Click here for the start time and here for the end time.
The top 256 participants in each age division will receive Championship Points, though players need to ensure they have a proper Player ID and are opted into the Play! Pokémon program on the official Pokémon website before the tournament starts in order to be eligible for those points.