Epic_Celebi
Cool Trainer
Join Date: 5/9/2012
Posts: 1,291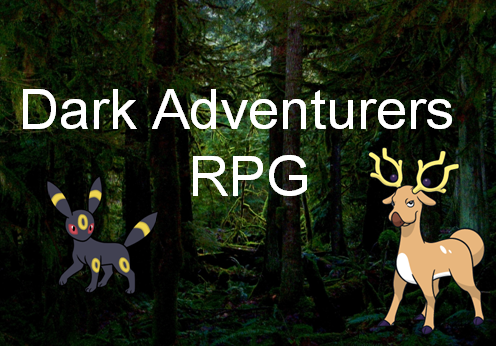 In the Dark Forest of Mystery dungeon world,There is said to be a great treasure.
A team of Pokemon,called team Dark,swore that they would find the treasure one day.This is their story of how it all began....
To Join this Roleplay, Just fill in this form
<code class="prettyprint">Pokemon Name:[break]Picture(Preferably)[break]Pokemon:[break]Personality:[break]Biography:[break]Moves:[break]Appearence:[break]Other:</code>
Rules:No Legends
And Members of DFC can be shiny!
No double posting or flaming
No swearing
You don't have to be a member of DFC to join
Normal Marrilland rules
Must stay active at least every 7 days or you are removed!
No Fusion Pokémon(unless you're a DFC member)
No Evolving Without My Consent!
Members of Team Dark:
Pokemon Name:Arty
Pokemon: Gallade
Personality:courageous, has the power of telepathy and is determined
Biography:
Moves: Magical Leaf, shadow ball psyshock, Calm Mind
Appearence: non shiny, and with a blue scarf around his neck
Pokemon Name: Sparkz
Pokemon: Magneton
Personality: BraveB
Biography: Magneton was raised by a Pikachu family, because he was abandoned by his parents when a rogue Houndoom burned down his village.
Moves: Tri Attack, Thunderbolt, Flash Cannon, Magnet Rise
Appearence: He is slightly smaller than a regular Magneton, but actually quite a bit stonger than a regular one too!
Pokemon Name: Star
Pokemon: Stantler
Personality: Mysterious
Biography: Star is a Stantler, blessed at birth. He has many special wonders about him. He has outstanding fighting skills, and can outsmart anything he comes face to face with. Others have a tendency to doubt him, until they are smothered by him
Moves: Psychic, Hypnosis, Dream Eater, Nightmare, Megahorn
Appearence: has a star on his front right hoove
Pokemon Name:Aero
Pokemon:Riolu
Personality:Lonely
Biography:Aero is a Very rare aura riolu from caldur cliff,but that cliff was destroyed by a fight between Kyogre and groundon
Moves:Aura sphere Feint Bullet punch Pound quick attack
Appearence:Shiny,has a red marking on back
Pokemon Name: Eve
Pokemon: eevee
Personality: naive
Biography: she can sometimes jump to conclusions and makes hasty choices at time but all in all she is a team player and will do whatever it takes to get where they are going even if it's risky plus she super fun to be around
Moves: shadow ball, attract, ion tail, tackle
Appearence: has a star and moon marking on her tail
Pokemon Name: Lux
Pokemon: Shiny Kabuto
Personality: Having a short fuse, Lux tends to blow up in others faces quite frequently. Due to her difficult personality, Lux has little to no friends, a fact that she's comfortable with. After all, the best friend you can have is yourself... or so she thinks.
Biography: Lux has no recollection of her earlier days, except for the painful knowledge of being abandoned. Due to her unique colouration, Lux was rejected by every other Kabuto she encountered, leading her to live a life of hardship and loneliness. This lifestyle wasn't without its perks however. Fending off wild Pokemon all by her lonesome granted Lux more stamina then any normal Kabuto could ever hope to have, better attacks and knowledge of most of the little nooks and crannies she could hide in. Now, Lux has heard word of an organization named Team Dark whcih, according to her sources, are looking for a treasure beyond belief. She has been making her way upstream to Gem Town in order to find out more about this "team" and to possibly join for glory.
Moves:Hone Claws, Aqua Jet, Sand Attack, Rock Slide.
Appearance: Lux is smaller than the average Kabuto, due to not being able to get the nutrition she needs in the wild. Gifted with having a will that burns stronger than fire, Lux's eyes reflect this in being more keener then most. Has a unique colouration.
Other:Lux excels in camouflaging. Has a long scratch on her shell, result from her brawls in the past.
Pokemon Name: Eon
Pokemon: Vaporeon
Personality: Calm.
Biography: Is proud of its power and won't back down from a fight. challenges anyone it meets. Is cautious around others. if he trusts you he will do anything and everything to help you.
Moves: Ice beam, Surf, Aurora beam, Bite
Appearance: looks like a normal Vaporeon
Pokemon Name:Blissy
Pokemon:Blissy
Personality:sexy bold
Biography:cunning but smart,very kind to others always willing to give helping hand does not fear anything,and always in good mood more then just pink round ball fights the battle's if it gets rough times harder she learns from it gains more strength who knows how far a pink ball can go
Moves: seismic toss,thunder wave,aromatherapy,softboilded
Appearence:non shiny
Pokemon Name: Beasty
Pokemon: Pupitar
Biography: Beasty likes to be a prankster at times, but when it comes to fighting enemies, he doesn't hold back.
Personality: Since evolving with the help of Dread, he has become cockier, but slower. He awaits his destiny as a Tyranitar.
Moves:Sandstorm, Hyper Beam, Rock Slide, and Gyro Ball.
Appearence: Normal looking Pupitar
Pokemon name:Dread
Pokemon:Zorua
Personality:calm, rarely ever caring
Biography: A zorua raised around pure hate after his parents were murdered right in front of him giratina took him in and raised him like its own son dread's appearence changed because of him being raised by giratina
Moves:night daze foul play shadow ball and protect
Appearence:non-shiny, blade-like tail ,giratina origion mask around neck and blood red eyes
Other:nocturnal, great sense of humor, ability: illusion
Pokemon Name: Char
Pokemon:Charmeleon
Personality: Loves fighting. doesn't like working together
Biography: He was abandoned by his mother for being a runt he takes out that anger and fights fiercely
Moves: Flamethrower, Dig, Strength, and Flame burst.
Appearence: Very scared from all its fights
Pokemon Name: Ninja Umbreon Uchiha [Umbre, NU, Umbreon, or Uchiha]
Picture(Preferably)
Pokemon: Umbreon
Personality: happy and jumpy sometimes but has turned into a quiet/emo. She an be set off quite easily though so don't scrub her off. Her personality is also kind of confusing, she can be sad one moment then hyper the next.
Biography: She was ran out of the Uchiha Village after her mom was killed when she was little and was spilt up from her only family left, her brother Darkness. They don't see each other much anymore. She was taken in when she was found by the Konoha Village and was trained to be a Konoha Ninja. She now lives in the forest after leaving the Village, she had stumbled onto her old village just to see that everyone was dead in it and it was burned.
Moves: shadow sneak, shadow ball, psychic, and moonlight
Appearence: A Umbreon with blood red bands and blood red eyes, she wears a red Konoha headband around her neck.
Other: she can use Jutsus and prefers to use that to her actual Pokemon moves. And prefers to be called Umbre.