Applejack
Administrator

LuckyStar Trainer
Join Date: 2/14/2009
Location: Tennessee
Posts: 27,560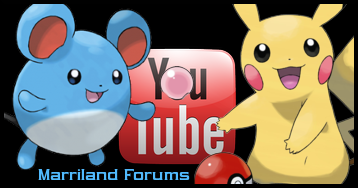 Official Marriland Forums Youtube Channel
For you new members, and those of you who may not know, the Marriland Forums has its own Youtube channel, which consists of videos submitted by members from here, the video's are mostly Pokemon related, with the occasional non-Pokemon video.
After a very slow start back in late 2011, we're starting to get a somewhat steady stream of content coming through, in large part from Flame_Blader1 and Divock. We're going to try and post a video every few days now, and with Divock's new Let's Play, there will be videos every week. We also have a few exciting Battle Factory videos lined up.
If anyone would like to submit their own ideas or content, feel free to post here or PM me or Flame_Blader about it. We can give you details on what is allowed and what isn't, and other general guidelines. Most anything will be accepted. We
really
need some more submissions, and a variety at that. Generally we do not just want to continue posting the same thing continually (which is WiFi battles). Those will still be accepted, of course, but we'd like a variety of videos to keep it fresh.
ALSO, we are in dire need of people who can record Wi-Fi battles with good to high quality.
Getting good battles is not hard to get - having someone with the hardware to record it with good quality is what we're missing. Ideally, the quality of
camera recordings should to be no less than the quality of our latest battle release
. Perfect quality is
the battle that OmegaForte submitted
. Perfect quality is not required, good quality is required, and shaking screens and blurry, fuzzy quality will not be accepted. Please let us know if you can help out, and the easiest way to get you the video is to send you the global link ID so you can access it on your own DS and record from there.
But if you cannot help out by submitting
,
subscribing, watching and liking the videos as well as commenting
is the next best thing. We already have one video over a thousand views, and after our previous two videos were uploaded, we gained about 30 new subscribers (totaling to 188 as it stands currently).
This topic will also serve as an update topic, where we will post the link to new videos as they are uploaded for convenience. This topic will stay as an announcement for a time, and might be demoted to a sticky in another forum in the future. A notice on that will be posted.
To end, I'd like to give a big thank you to all of you who have submitted content or already helped out by providing views and subscriptions! We'd really like to keep this thing going, so we need your help!
Below is a list of all the current videos, each new video will be added after they get posted on YT.