After all of the suspense for months on end, the sequels to the Pokemon Black and White — Pokemon Black 2 and White 2 — are finally released in North America!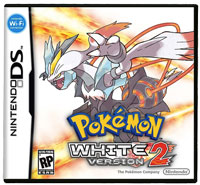 To help you get through the games, I recommend checking out my Black 2 and White 2 Walkthrough, which should have everything you need to help get you through the game! It is mostly finished, although as I do not yet have my hands on the English copy, there may still be a stray detail leftover from the Japanese versions of the game, which is what the guide was originally written for. This will be fixed in the coming days, don't worry.

If you're looking to know all of the cool moves that Pokemon can learn throughout the game, as well as where to find them, their stats, and all of that fun stuff, check out the Black 2 and White 2 Pokedex! I mean, really, what more needs to be said! It's just so helpful to be able to see what level Pokemon learn moves and what potential Move Tutor moves there are to learn.

And, one more very important thing that a lot of you have been asking: YES!! Yes, yes I am doing a Pokemon White 2 Video Series (videos will be added later tonight and over the course of the week) and posting it over at my YouTube channel, as well as posting it here on Pokemon.Marriland.com. This will be the "continuation" from the original Marriland's Pokemon White Adventure series and I will even be using the Memory Link from the start, so we should hopefully hear references of my previous adventure! We'll see how that goes.

I will be starting my video series tonight, pulling an all-nighter to get a whole ton of footage recorded and posted to YouTube, since I am getting my copy tonight (unfortunately I was not lucky enough to get it any earlier). That should mean there'll be several videos up by the time you get your copies in the morning if you aren't up for a midnight release, so you can play along!

I'll be putting ALL other video series on hold until this is complete, due to how important this is. Additionally, I'll be introducing a new method of recording from the Nintendo DS that should vastly improve quality, as it is using the video signal straight from the DS instead of using a camera. Hopefully it works as well as my test recordings have suggested!

Well, if you haven't taken the opportunity to register for the Marriland Forums, you should do that now and leave a reply to this news update to let the world know where you are in the game or what some of your favorite things are! (No spoilers, though, please!) You can also discuss Pokemon Black 2 and White 2 over at the Pokemon Black 2 and White 2 forum there. That's always a great way to stick together as a community and enjoy the game with the rest of the Marriland community. You know you want to be a part of it!

Alright folks, hope you enjoy the games and the coverage on Pokemon.Marriland.com!