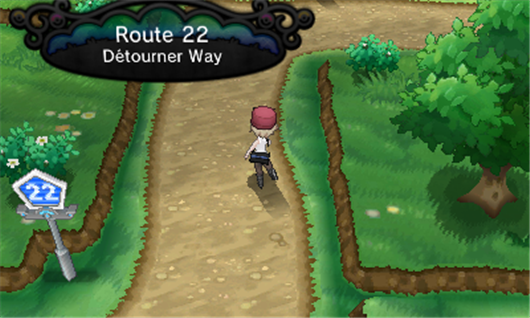 Route 22 is an optional route you can visit to the northeast of Santalune City. It contains several Trainers for you to fight as well as Pokémon for you to catch.
Wild Pokémon on Route 22
Pokémon
Type
LVs
Notes
Dunsparce

Normal

7
Uncommon
Litleo

Fire




Normal

5-7
Psyduck

Water

6
Bunnelby

Normal

5-6
Riolu

Fight

6-7
Rare
Farfetch'd

Normal



7
Rare
Bidoof

Normal

6
Azurill

Normal




Fairy

6-7
Near the start of the route is Rising Star Louise, who uses a Psyduck L6 and a Litleo L7. Past her is Lass Elin, using a Goldeen L6 and a Marill L6, and then Rising Star Loïc, who uses a Riolu L9 and may hit rather hard.
Directly south of Loïc is Schoolboy Rabbie, who has a Pidgey L7 and a Metapod L5. Past him is Schoolgirl Mackenzie, who uses a Bunnelby L8.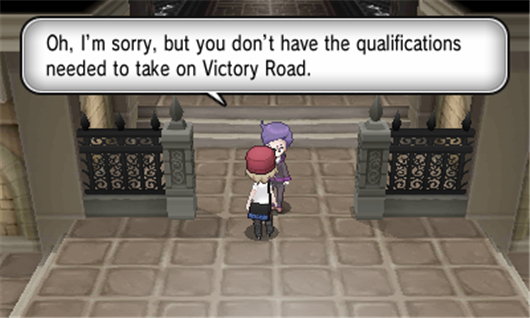 After Schoolgirl Mackenzie, you'll find a path leading off to the east. That takes you to the entrance to Victory Road, although you'll need to have all 8 Badges in order to proceed any further in there.
Further south of Schoolgirl Mackenzie is Lass Elsa and her Flabébé L8. Go ahead and take her down, then head west by jumping down the ledges to pick up a free Super Potion.
Anyway, keep heading west and you'll find yourself back at Santalune City, so now that you have a bit more experience and hopefully some new Pokémon, go on ahead and take on the first Gym!