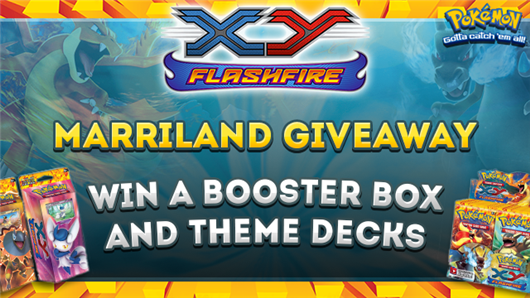 Spring has officially ended, so what better way to start a scorching summer than with a sizzling giveaway for the hottest new Pokémon Trading Card Game set: XY—Flashfire! XY—Flashfire contains a fiesta of fiery Pokémon, including the incredibly powerful Charizard-EX and Mega Charizard-EX cards.
Three lucky winners will each receive a full booster box of 36 XY—Flashfire booster packs in addition to a pair of XY—Flashfire preconstructed theme decks. All you need to do to enter is follow the instructions below.
How do you enter? Well, you can enter by clicking here, but, on top of that, you can gain additional entries in the following ways:
Now, true-blue Marriland fans will have an even better chance of winning! Unfortunately, while there are surely tons of awesome Marriland fans and people eager to win this contest from all around the world, this contest is open only to residents of the United States of America as well as Canada. (Sorry, everyone else! Shipping costs and contest laws are no fun, right?!)
While you're at it, why not answer a fun question to get the discussion going in the comments! Who is your favorite Fire-type Pokémon? Is it the fearsome Charizard or the adorable Vulpix? Let the world know in the comments who your favorite Fire-type Pokémon is and be sure to enter the giveaway!
Disclaimer: The Pokémon Company International is neither the sponsor nor coordinator of this giveaway and has no formal association with the above giveaway, and is merely the supplier of the product.