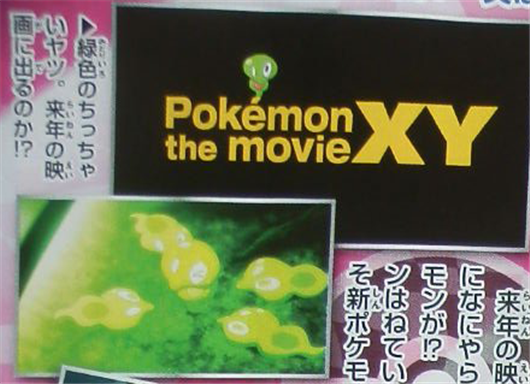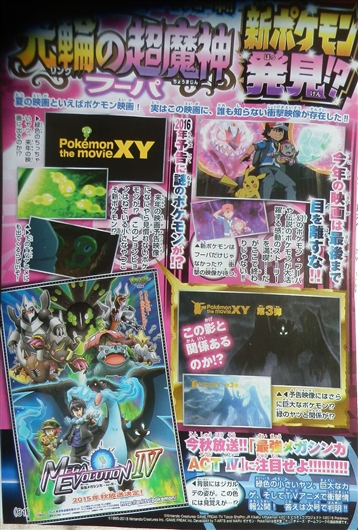 The September issue of the Japanese magazine CoroCoro has been leaked, revealing a little bit more about the strange "green blob" Pokémon shown at the end of the most recent Pokémon Movie in Japan.
One picture in the magazine, zoomed in and shown above, shows that there are five of that "new Pokémon" rather than just a single one. Not only that, but that page shows the massive "new Pokémon" that was shown in last month's CoroCoro issue, though nothing new about that has changed.
Information about these Pokémon remains scarce, but more about them is said to be revealed in the October issue of CoroCoro, which should be available next month. Additionally, Zygarde is shown to have a role in the upcoming Mega Evolution ~Act IV~ special in Japan, along with several other Mega Evolutions.
Two more pages of the September issue of CoroCoro reveal information on Pokémon Super Mystery Dungeon, which will be released in Japan next month (Holiday 2015 in North America and Early 2016 in Europe/Australia).

The first image shows Mega Evolutions and how they will impact the battle, as well as new items that can be obtained in the dungeons — Lapis, which can be equipped into a bangle / ring combination called a Ringle to grant effects on the bearer, at least from what it looks like.
The second image shows some of the other characters in Pokémon Super Mystery Dungeon. Ampharos is listed to be the Group Leader, Jirachi as the Astronomer, Mawile as an Archeologist, Dedenne as a liaison, Buizel, Archen, and Bunnelby as investigators, and Swirlix as a waiter. There's still quite a lot to be translated, but even just from the looks of things, it looks like they will all play a role as a group that the player can interact with.