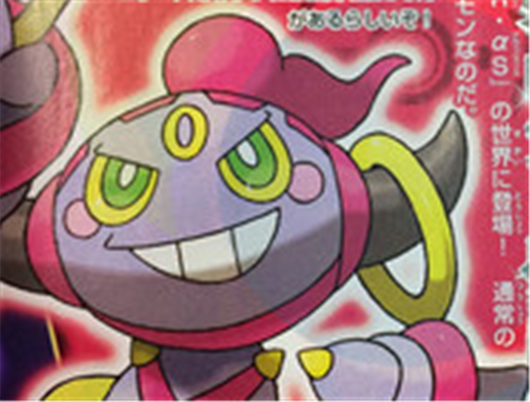 The February issue of the Japanese magazine CoroCoro has been leaked earlier this morning, and new information about the upcoming Pokémon movie has been revealed inside. The movie, scheduled for a release in Japan on July 18th, 2015, features a previously unrevealed Pokémon — Hoopa — in addition to Primal Groudon and Primal Kyogre.
The 18th Pokémon movie's Japanese title is 光輪の超魔神 フーパ, or as it's been loosely translated to, The Archdjinni of the Rings: Hoopa.

Additionally, a special Shiny Rayquaza will be given out at the Japanese World Hobby Fair, which is held in four Japanese cities between January 18th and February 8th. Specifically, Nagoya on January 18th, Tokyo on January 24th–25th, Fukuoka on February 1st, and Osaka on February 8th. It can be received on any Japanese version of X, Y, Omega Ruby, or Alpha Sapphire.