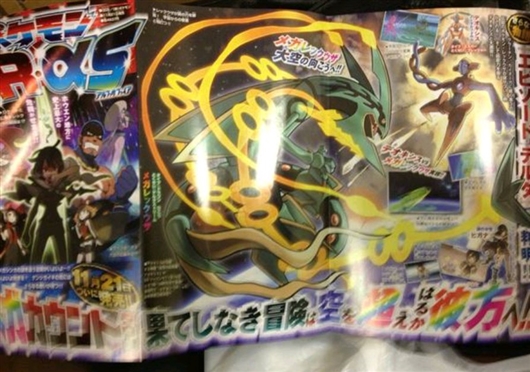 NOTE: This is breaking news! Be sure to check back frequently for updates.
The latest issue of CoroCoro, the last preceding the release of Pokémon Omega Ruby and Alpha Sapphire, has been revealed. In the issue, we are shown that 18 various Legendary Pokémon are available in Pokémon Omega Ruby and Alpha Sapphire, including Deoxys. Mega Rayquaza will battle Deoxys at some point in the game. Mega Rayquaza and Deoxys take their fight to beyond even the sky into space! It is said that Deoxys appears in a sequence of the game called Episode Delta.
Also revealed is an alteration to the story of the original Pokémon Ruby and Sapphire games. A new character called Higana, who battles with the Pokémon Whismur and Mega Salamence. It is said she plays a key role in the story.