New information comes to us from Coro Coro scans this morning about Omega Ruby, Alpha Sapphire and Diancie!
It appears that Diancie is going to be getting a Mega Evolution. No new information has been provided upon Diancie as of yet, not even information about the ability it will be getting.
The biggest news revealed in this batch of scans is that all three starter Pokémon from the Hoenn region will have Mega Evolutions. Nothing new about Mega Blaziken has been added as we had Mega Blaziken in X and Y. Mega Swampert retains its Water/Ground typing while gaining the ability Swift Swim. Lastly, Mega Sceptile Will become part Dragon type upon Mega Evolution and gains the ability Lightning Rod. The name of the item used to activate Mega Evolutions in this game is the Mega Bangle.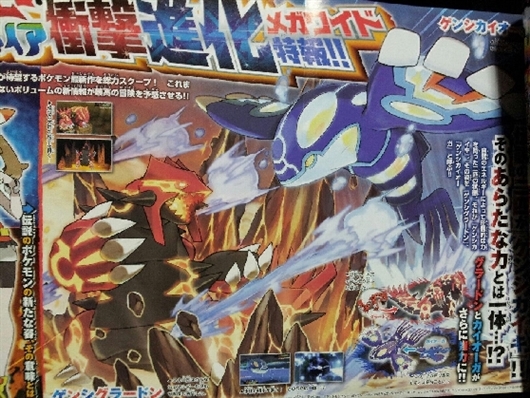 New information about Groundon's and Kyogre's new look or "Mega Evolutions" are actually cause of some form of Atomic Regression. These forms of Groudon and Kyogre are referred to as Origin Groudon and Origin Kyogre (Japanese: Genshi Groudon & Genshi Kyogre).
Staple events and items are still in the game, but have been updated to involve Mega Evolution changes to the game. Steven Stone returns searching for the secret to Mega Evolutions. Steven also appears to have a Mega Charizard X on his team. Both Team Magma and Team Aqua return with some design changes to not only Maxie and Archie, but also to their respective Admins and Grunts. Both types of bikes, Acro and Mach, will be returning as well!
What do you think? How do you like the changes to Team Aqua and Team Magma? And what of the Mega Evolutions for Sceptile and Swampert, do you like the design and ability updates? Lastly what are your thoughts on Mega Diancie? Leave a comment down below and let us know what you think about all of this new information!