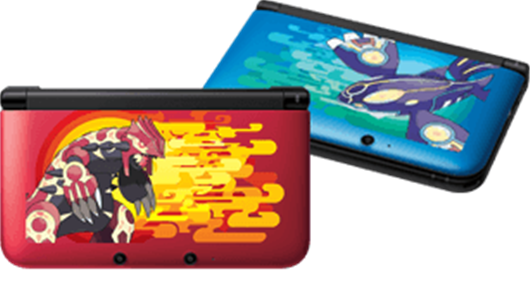 The Pokémon Company International is holding a special promotion in conjunction with participating GameStop stores in the US. It's called "MegaStop", and from now until December 31st, whenever you buy qualifying Pokémon-themed merchandise from participating GameStop stores, as well as GameStop's online store, you'll receive a special code in your receipt that can be entered on PokemonMegaStop.com for a chance to win awesome prizes!
Every single special code will result in a free Pokémon Trading Card Game Online code card, which can be used to receive a Pokémon XY—Phantom Forces virtual booster pack on the Pokémon TCGO in addition to one of four sets of virtual card sleeves and a deck box, featuring either Mega Charizard X, Mega Charizard Y, Mega Venusaur, or Mega Blastoise.
Each special code from the MegaStop promotion gives you a chance at winning the Evolved Prize: 1 of 50 special Nintendo 3DS XL units featuring either Primal Groudon or Primal Kyogre. These systems are going to be super rare, as only fifty total are to be made in the US.
Not only that, but if you enter two or more MegaStop special codes, you'll have a chance at winning the Mega-Evolved Prize: an 8-day, 7-night trip to Hawaii for you and three friends! You also still get an extra entry in the standard Evolved Prize, too, don't worry! Keep in mind that you only get one code per transaction, so you will want to make separate orders or trips to GameStop rather than buy everything you want in one go, otherwise you'll only get a single code!
The MegaStop promotion is only available for residents of the US, so you won't be able to enter if you buy GameStop items from outside of the US. It also applies only to new products, not used products, so you'll have to pay full price.