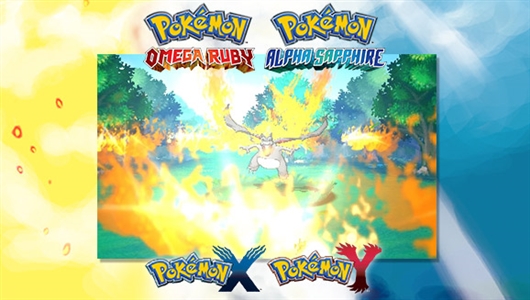 From now until April 19th, Pokémon fans in the United Kingdom can visit participating GAME stores and ask to receive a special serial code granting the player a special Shiny Charizard holding the Charizardite Y. The serial code must be redeemed through Mystery Gift's "Get with Code" method. It can be received on X, Y, Omega Ruby and Alpha Sapphire.

The Shiny Charizard comes at level 36 and also knows the event-exclusive move Hold Hands, which seems like an interesting choice of move for a powerful-looking Pokémon like Charizard. It has no effect in battle, though plays an animation when used in a Double or Triple Battle.
Not only that, but UK players visiting participating GAME stores can ask about the Primal Clash Collector's Album to go along with the Shiny Charizard serial code, which can be used to store Pokémon TCG cards. It looks pretty cool and, from the sounds of things, it's being given away for free. Sweet!
These offers both end on April 19th in the UK. The Shiny Charizard is available in a similar way in Germany at participating GameStop stores (ends April 21st) and will be available in France at participating stores starting April 13th (see the website for details). No word yet as to whether or not this event will be available in North America, Australia, or other European countries.