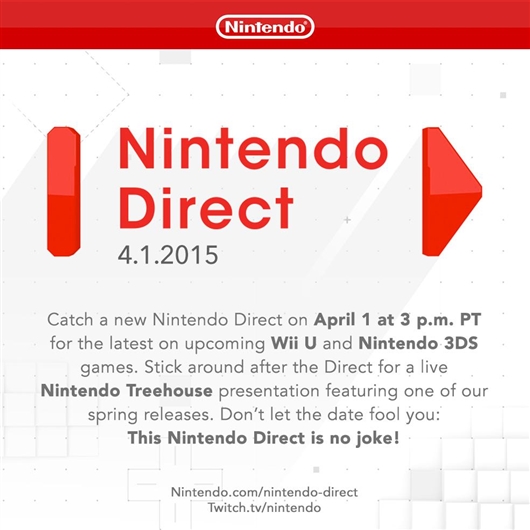 While news has been rather light lately, it appears that one rumor going around has proven to be true: Nintendo is holding a Nintendo Direct stream on April 1st to show and/or announce upcoming games for the Wii U and Nintendo 3DS. Yes, it's on April Fools Day, a day where fake news and hoaxes run rampant, but rest assured, this Nintendo Direct is not a joke (besides, it would be on April 2nd in most of Europe and in Asia/Australia).
| North America | Europe/Australia |
| --- | --- |
| 3:00pm Pacific | 11:00pm BST |
| 4:00pm Mountain | 12:00am CEST (Apr. 2) |
| 5:00pm Central | 6:00am AWST (Apr. 2) |
| 6:00pm Eastern | 9:00am AEDT (Apr. 2) |
| WHAT TIME IS IT FOR YOU? | Click here to see it in your time zone |

You'll be able to watch the Nintendo Direct at the above times on the official Nintendo Twitch channel or on the Nintendo Direct subsection of the official website. For the European stream, you'll want to check out the official NintendoUK Twitch channel instead.
Though the contents of the Nintendo Direct are of course not yet known, there has been speculation lately of a new game in the Pokémon Rumble series, Pokémon Rumble World, which recently received a rating from the ratings board in Australia and has also had a domain registered in the US (the site is not yet operational). It's quite likely that there will be an announcement for Pokémon Rumble World in tomorrow's Nintendo Direct.
However, will the Pokémon announcements end there? Pokémon X and Y were announced in early January 2013 and the games were released in October 2013. Pokémon Omega Ruby and Alpha Sapphire were announced in early May 2014 and were released in November 2014. If there are going to be new main-series Pokémon games announced for 2015, it would have to be rather soon, and it's likely to be early in any given month so it can be covered in magazines like CoroCoro without worry of it leaking early. An early April reveal would match that timeline perfectly.
What do you think will be announced in tomorrow's Nintendo Direct? Let the world know in the comments!