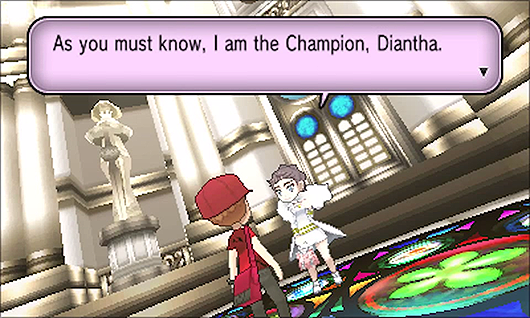 That's right... the Champion is Diantha, that movie star you've met on your journey previously.
Diantha's team is very diverse, meaning it doesn't really have a glaring weakness to just one type. Each Pokémon has its own weaknesses and strengths, and might need to be handled differently.
Champion Battle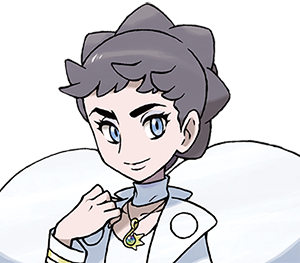 Hawlucha
Lv. 64

Fight

Tyrantrum
Lv. 65

Rock

Dragon

Aurorus
Lv. 65

Rock

Ice

Goodra
Lv. 66

Dragon

Gourgeist
Lv. 65

Ghost

Grass

Gardevoir
Lv. 68

Psychc

Fairy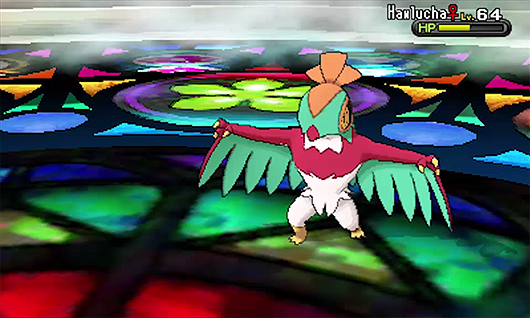 She leads straight off with her Hawlucha L64, who doesn't fool around. X-Scissor and Poison Jab will both do solid Physical damage. It also knows Flying Press, an interesting move that does both Fighting- and Flying-type damage, while also being pretty strong (and Physical-based). And, to round out its moveset, it knows Swords Dance, which will raise its Attack by two stages when used. Very dangerous if you allow it to set up!
Despite being quite fast and having a lot of Attack, Hawlucha is very frail, and doesn't take hits too well (especially Special-based moves). It is weak to Electric-, Psychic-, Ice-, Flying-, and Fairy-type moves, so any strong move of one of those types will likely make quick work of it.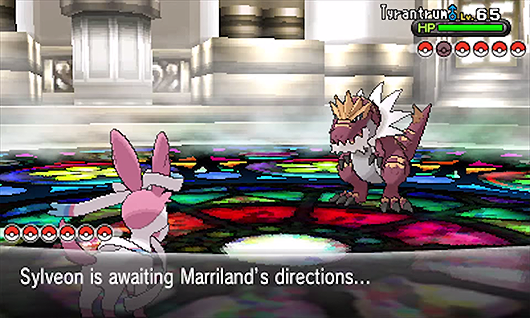 Next up, her Tyrantrum L65 isn't looking to mess around, either. It has very high Attack, and a whole moveset of strong Physical-based moves. Earthquake and Dragon Claw will do solid damage, while Head Smash (Rock-type) is extremely strong but will give it a decent amount of recoil damage (half of the damage it dealt), and Crunch receives a boost from its Strong Jaw ability. Not the fastest thing around, but will undoubtedly try to take out a good chunk of your HP if it hits.
This thing has a lot of Defense, but not nearly as much Special Defense, so definitely hit it with Special-based moves if you can. Fighting-, Ice-, Dragon-, Fairy-, Steel-, and Ground-type moves all happen to be super effective, so are great choices against it.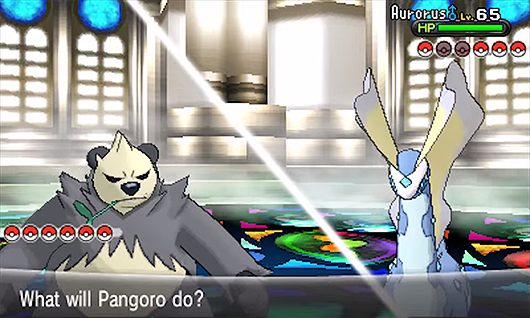 She also has the other fully-evolved fossil, an Aurorus L65. Aurorus works a little differently, having decently high Special Attack. It has two very strong Special-based moves to complement that, Thunder and Blizzard, though they both have pretty low accuracy, so there's no guarantee they'll hit. However, it can also set up both Light Screen and Reflect, which is mainly what it's out to do. These screens temporarily halve damage done by your Special moves and Physical moves, respectively, so they're obviously no fun.
If you can, knock this thing out immediately to avoid those screens. It is slow and has lower Defense than Special Defense, though very high HP. It is 4x weak to Fighting- and Steel-type moves, so a strong Physical-based move of either type will likely get it out of the way. If you don't have access to those types, it is also weak to Grass-, Ground-, Rock-, and Water-type moves.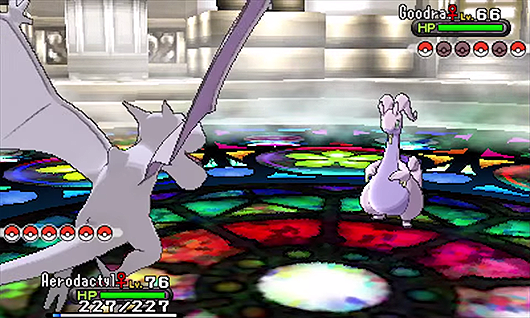 Now, her Goodra L66 is pretty interesting to fight. It has a lot of Special Attack, and a variety of formidable Special-based moves: Dragon Pulse, Muddy Water, Fire Blast, and Focus Blast. The latter two moves have pretty unreliable accuracy, but are still very powerful if they hit. Muddy Water doesn't have the best accuracy, either, but Dragon Pulse has 100% accuracy, and is the most solid move it possesses.
Fairy-types are great to use against it, especially since they will be immune to Dragon Pulse, but keep in mind that Goodra has massive Special Defense, while Defense is its lowest stat. Fairy-, Dragon-, and Ice-type moves are all super effective, and if you have any Physical-based moves of any of those types, those are probably the best options to use.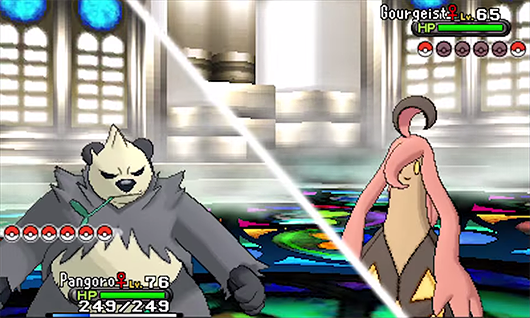 Now for her Gourgeist L65, which honestly doesn't have very impressive attacking power. It does know the powerful moves Phantom Force and Seed Bomb, though, as well as Shadow Sneak, which isn't nearly as strong, but has priority. Its final move is Trick-or-Treat, which makes its opponent a Ghost-type in addition to whatever type(s) it already has. Very interesting, and unless your original typing interferes otherwise, it can make both Phantom Force and Shadow Sneak super effective against you.
This Gourgeist's only impressive stat is its Defense, being quite high, so you will want to try to hit it with something Special-based. It is weak to Fire-, Ice-, Ghost-, Dark-, and Flying-type moves. If you happen to have a Normal/Flying-type bird, it'd likely be extremely useful, being immune to Gourgeist's Ghost-type moves, resisting its Seed Bomb, and (presumably) being able to hit it with a super effective Flying-type move.
Finally, out will come her strongest and most iconic Pokémon, her Gardevoir L68. On the first turn, it will Mega Evolve into Mega Gardevoir, making its already high Special Attack go through the roof. All four of its moves take advantage of this, being solid and powerful Special-based moves: Moonblast, Psychic, Thunderbolt, and Shadow Ball. Any of these moves can hit very hard, so definitely watch out.

Upon Mega Evolving, Gardevoir's Special Defense will also be significantly higher, though its Defense remains pretty poor, so certainly try hitting it with Physical-based moves. Poison-, Ghost-, and Steel-type moves are all it's weak against, so hitting it with a Physical-based move of one of those types will probably do just fine to get it out of the way quickly.
Once you do defeat Diantha, you'll finally enter the Hall of Fame. Congratulations, new Pokémon League Champion!
There will be a celebration held in Lumiose City for you, as well as your friends for helping to defend the Kalos region.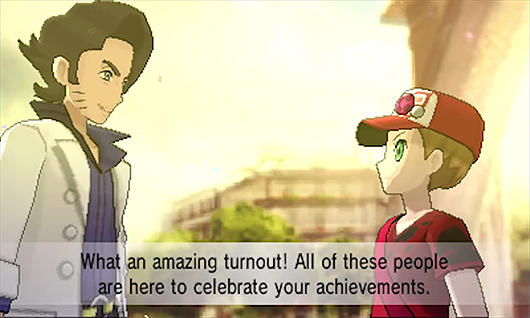 Here, AZ will show up, and out of the blue, ask for a Pokémon battle. Don't panic or anything, his team isn't very difficult at all, especially compared to the Elite Four; if you defeated the Champion, you'll easily win this fight. It doesn't even matter if you win or lose, anyway. He has a Torkoal L60, a Golurk L60, and a Sigilyph L60.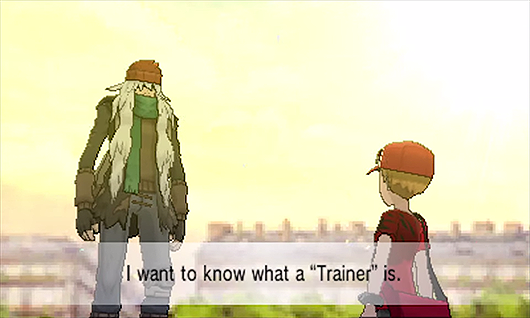 Once the battle's over, AZ will reveal a little bit about himself. Then, watch as something amazing happens to him...
... After the very touching scene, the credits will roll. Your adventure is finally over...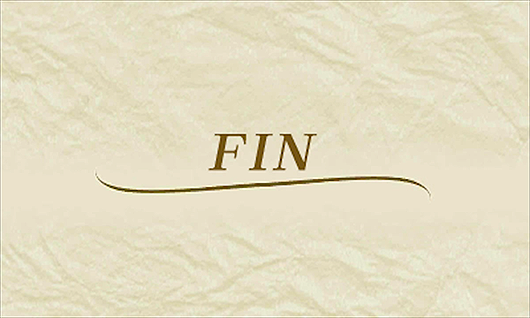 ...or is it? Not in the slightest, there's still plenty of stuff to do in the game! I'll certainly be covering some Post-game content very soon, so stay tuned!