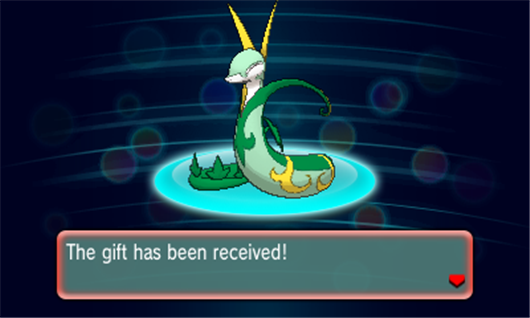 While it's been known that Snivy and its family's hidden ability is Contrary for quite some time, unfortunately that ability has never officially been made available. Now, though, thanks to a promotion in Japan, players with a Japanese version of Pokémon Omega Ruby or Alpha Sapphire can input a special multi-use serial code using Mystery Gift to receive a special level 50 Serperior with its hidden ability, Contrary.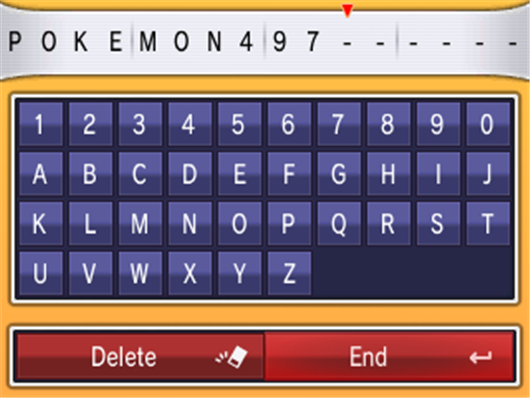 Like other serial codes, you need to go into Mystery Gift from the main menu and then select Receive from Code. However, unlike most other serial codes, this one is not unique and can be entered by any Pokémon fan with a Japanese version of the game. You just need to input the code POKEMON497, confirm, and you'll be able to receive the special Serperior. Yes, the serial code does not take up the full code entry space, but don't worry, it works just fine for Japanese versions of Omega Ruby and Alpha Sapphire.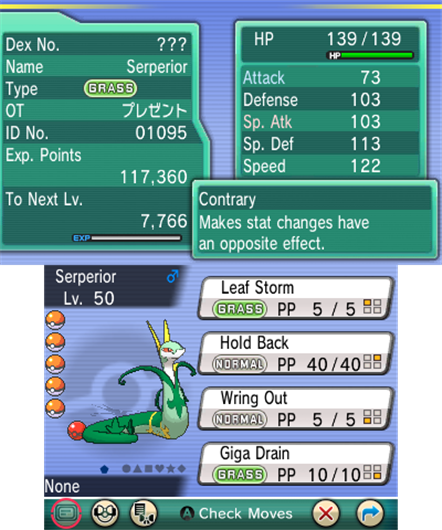 The Serperior is in a Cherish Ball, has a random nature and random IVs, and appears to be locked into being male (based off of about 40–50 soft resets). It comes with the moves Leaf Storm, Hold Back, Wring Out, and Giga Drain. Leaf Storm is perfect with a Contrary Serperior, as it raises its Special Attack by two stages afterwards instead of being lowered, which is amazing. Hold Back is also an event-exclusive move that works similarly to False Swipe.
Although this event is exclusive to Japan, since male Pokémon with their hidden ability now have a chance of passing along the hidden ability when breeding with a Ditto, it is indeed possible to breed Snivy with Contrary, meaning these will soon appear rarely on the GTS and over Wonder Trade. So even though the event itself is currently Japan-exclusive, it means that the Pokémon itself is legal and obtainable worldwide, which is of course good news.
No word yet on whether this event will be available in other areas. However, there will be more Japanese distributions soon for Emboar and later Samurott, each with their hidden abilities.